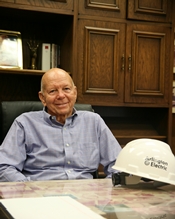 Pete started Arlington Electric on January 7, 1966. Pete was born in Palm City and graduated from Stuart High School (before it was renamed Martin County High School).
After his graduation, he immediately began learning his trade, soon after opening his business, Arlington Electric. Pete started his business with himself and one employee and today he employs a team of 45.
One of Arlington's first jobs was the Holiday Inn in Stuart. Since the company has provided electrical contracting for Martin Health Systems, the Martin County Jail, the Treasure Coast Mall, the Martin County School District, the jail on Stock Island in Key west and the Indian River Plantation- to name a few.
Pete has served on the Board of Directors for Treasure Coast Hospice, chaired the Electrical Licensing Board before it became the Construction Licensing Board, was appointed by Governor Martinez to serve on the State Licensing Board and is currently a member of the Stuart Martin County Chamber of Commerce.
Arlington Electric Inc was one of the first businesses in our community to sign up with Character Counts of United Way. Today, Pete attributes most of his success to his experienced, loyal staff. Most of his employees have been with the company for more than 30 years.
Arlington Electric specializes in new construction, service and maintenance.